HANOI MOTORBIKE RENTAL BUSINESS



Welcome to the official homepage of Hanoi Motorbike Rental – a premiere motorbike rental business based in Hanoi, Northern Vietnam. Luckily, you finally found us. Hanoi Motorbike Rental provides manual clutch off-road bikes and touring motorcycles for riding on long-distance trips. In addition, for commuting in Hanoi (mostly expats) we offer short-term, mid-term, and long-term scooter rentals.
For Vietnam's Covid-19 updates, you can check this link. In fact, our team is always available even when Vietnam tourism was hard hit by this pandemic.
Many Vietnam motorbike tours between 2020 and 2022 were cancelled or suspended. The good news is the Vietnamese border is officially open from March 15th, 2022, so let's get ready and apply for a visa now!
To know which motorbike/scooter is the best for you, please watch the below video.
Hanoi Motorbike Rental – One Part Of A Business
Hanoi Motorbike Rental is one part of the larger Offroad Vietnam Adventure Travel, a company that offers premier outdoor adventures in Vietnam such as motorbiking, cycling, 4×4, and cruises in small groups. Unlike most of the travel companies in Vietnam, we don't offer classic tours in large groups by bus. This website focuses on the rental business of Honda dirt bikes, road bikes & scooters from 50cc to 300cc for your guided or unguided motorbike tours through Vietnam.
Hanoi Motorcycle Rental – One Of The Oldest
Hanoi Motorbike Rental was founded in late 2006 by two local motorcycle riders who realized an increasing demand from riders from all over the world for a new and special way of exploring Vietnam on two wheels. When we started our business, the Russian Minsk 2-stroke 125cc was the only choice. However, Russian Minsk was underpowered, unreliable, and used lots of fuel (5-6l/100km). We thought the time for this "iron buffalo" was over and there should be a better choice. Therefore, we opted out of the 4-stroke Japanese Honda larger road and dirt motorbikes from 125 to 250cc. We own Honda bikes for many years. Every Vietnamese knows that this is the best choice because parts are easy, bikes are reliable and one thing says it all: "Honda" means "motorbike" in Vietnamese!
MOTORBIKE FLEET
There are currently many shops and companies offering motorbike tours and rentals. In reality, most tourists ride a cheap Chinese 110cc called Win which they deliberately cheated as Honda Win. This Chinese bike is horrible and very unreliable. Even local Vietnamese people didn't buy or use this bike when it was introduced in the early 2000s. Honda Astra PT Indonesia stopped manufacturing this model in the early 2000s and Chinese companies started making it because it's small and easy to copy. Hanoi Motorbike Rental is in no way recommends or considers this Chinese copy as a touring bike. Our smallest touring bike is 125cc. We use only one brand: Honda due to part availability and reliability. For more information about why you shouldn't ride a Chinese Win, follow this link.
All bikes provided are Japanese Honda, no Chinese fakes, or other brands. As a note, Honda doesn't sponsor our business.
Off-road Motorbike Hire: 150 – 300cc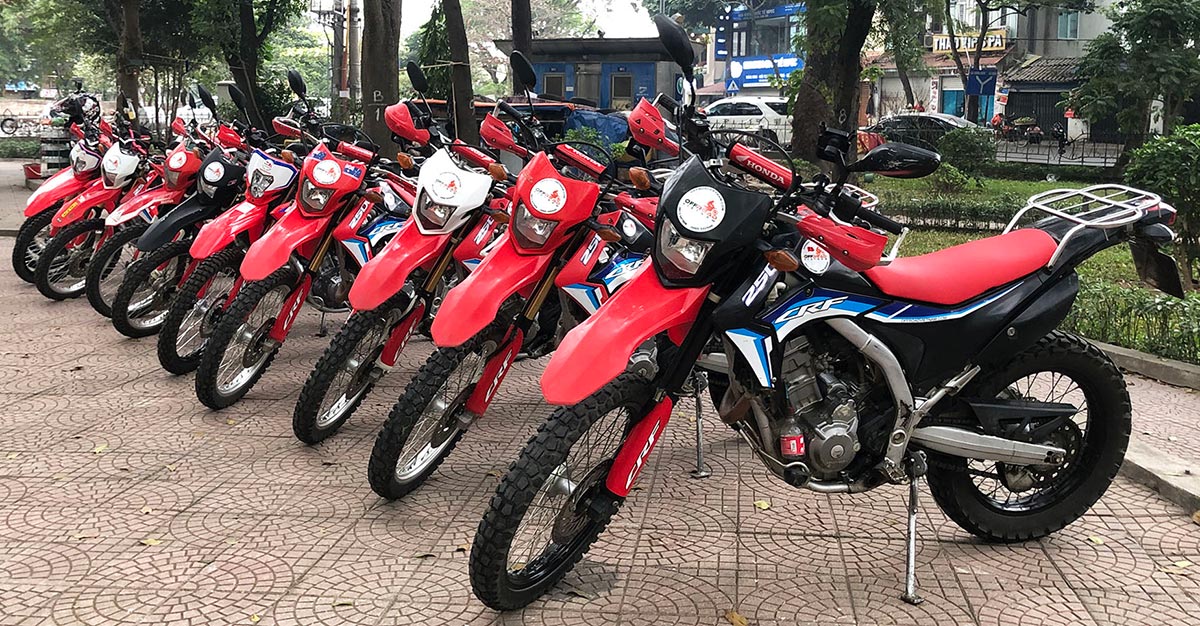 This type of manual clutch motorbike has great suspensions (dual telescopic in the front and mono at the back), big wheels, and large tires and will get you anywhere in Vietnam. Some shops in Hanoi rent bikes at cheaper prices because they use other brands like Yamaha, Suzuki, or the worst Chinese no-names. We provide only Japanese Honda bikes for simplicity, reliability, and fuel-saving. Honda motorbikes are normally more expensive than other brands but it's worth to invest and have freedom of mind. Hanoi Motorbike Rental currently offers the following off-road motorbikes.
2013 – 2017 Honda dual enduro CRF250L 250cc
2017 – 2020 Honda dirt bikes XR150L  150cc
Sport Touring Hanoi Motorbike Rental provides 150cc
This type of manual clutch motorcycle is best for sealed roads, highways, and country roads. All bikes have comfortable seats. It's able to get you over rough roads but not extreme dirt roads because the mudguards are closer to the wheels than the dirt bikes. Only Honda motorbikes are available, no other brands. Hanoi Motorbike Rental currently offers the touring motorbikes below.
2017 – 2022 Honda Winner & Winner X 150cc
Semi-automatic Scooter Hire: 110cc
We have been providing near new or latest models of scooters in Hanoi. Only genuine Honda products, no other brands, or Chinese fakes. Please take these details into account when you decide which bike to hire, ask about the bike model and year of manufacturing don't just look at prices. Our rates are competitive and the quality is the best.
In general, this is a very easy type of bike to ride, semi-automatic. They are great for riding in or around Hanoi or on short trips. Most of the scooters are rented on long-term contracts for expats working in Hanoi. We hire only new or near new scooters (less than 3 years old and no more than 30,000km on speedometre – most have 5,000 to 15,000km). All bikes start easily in the morning and you won't have trouble even for months or years. Monthly service or maintenance is included in the rental price. Hanoi Motorbike Rental currently offers the semi-automatic scooters below.
2015 – 2018 Honda Wave Alpha/S/RS/RSX 100cc
2017 – 2019 Honda Blade 110cc
Fully automatic Scooter For Rent: 110 & 125cc
These scooters from Hanoi Motorbike Rental are near new or latest models from Honda Vietnam.
In reality, this is the easiest type of scooter to ride, fully automatic. They are the best for riding in or around Hanoi, usually on long-term contracts for expats. They are in near new conditions (less than 4 years old and no more than 30,000km on speedometre – most have 5,000 to 15,000km). All scooters use fuel injection and start first thing in the morning and you won't have trouble even for months or years. Monthly service or maintenance is included in the rental price. The available models are below.
2013 – 2021 Honda Vision 110cc
2014 – 2017 Honda Air Blade 125cc
2014 -2019 Honda Lead 125cc
50cc Scooters
We understand some foreigners care about a driving licence and insurance coverage and we do have some 50cc scooters. You can hire a semi-automatic or fully automatic version. To be clear, these scooters for rent are not our official service, they are only provided at your request and therefore the availability may be not available at times. In fact, all of these scooters are from Taiwanese manufacturers like SYM and KYMCO. A real Honda product is overpriced at around 2,000 – 3,000$US and unfortunately, we are not able to afford that. We will try to service them in the best conditions possible and use newer models not more than 4 years old or with no more than 20,000km. 
For more details, please visit this link.
GUIDED VIETNAM MOTORCYCLE TOURS
In addition to the rental business, you can also book guided tours with us. In fact, this is the easiest way to explore Vietnam on two wheels without worrying about negotiating things along the way. Our guides work as leaders, guides, translators, and also handy mechanics. In short, you enjoy the ride and take in the scenery while we work.
Honestly, most of our tours are in Northern Vietnam where the landscape is more beautiful. In addition, the most colourful hill tribes live in this part of Vietnam. Everything is real and authentic and you get the real insight of Vietnam. Below are some typical itineraries:
– The Heart Of North Vietnam
– Northeast Vietnam
– Northwest Vietnam
– Ho Chi Minh Trail
– Big North Loop
– One Day Short Ride
We also provide some add-on services to your Vietnam motorbike tours.