HIRE HONDA XR250 DIRT BIKES IN HANOI
About Honda XR250 Family
The Honda XR250R is a motorcycle manufactured by Honda Motor Co., Ltd. in Tokyo, Japan. In fact, it is part of the Honda XR250 series.
The XR250R is a trail bike used for on-and-off-road purposes. It is a four-stroke, SOHC, 249 cc bike. It is a very reliable, capable motorcycle off-road and does exceptionally well, PARIS DAKAR being one of the known rallies the bike has done exceptionally well in. The XR250L was a heavier, street-legal version and this is the model Hanoi Motorbike Rental provides. The Latin American version of this bike, known as TORNADO, possesses a DOHC four-valve engine and gives out 23 horsepower.
The engines in both the XR250R and XR250L are identical. In the United States, the L has a 3 mm smaller header pipe and a different carburetor to satisfy emissions regulations, though both carbs have a 30 mm throttle body. The engine has a four-valve head with splayed rocker arms to actuate the valves. Unusual for a single-cylinder engine, it has a two-into-one header pipe; after 1996 this became a two-into-two.
Throughout its production, XR250R has weighed less than 100 kg (220 lb), whereas the XR250L typically weighs close to 123 kg dry. The R version is the kick start only, features six-speed transmissions with chain final drive, and has stator ignition. For the pre-1996 models, the suspension travel was 260 mm front and rear. The XR250R is the enduro (competition) model; however, the L version is electric start, with pillion pegs, softer suspension, and lower seat height. The changes between 1998 and 2005 consisted of decal updates.
About Honda XR250 Baja (

not available after May 2017

)
Our Honda XR250 Baja was from 1998 to 2002 models. The difference between this model and XR250L that we provide are bigger fuel tanks (14 litres), headlights (twins) and plastic fairings.
If you are between 1.70m and 2.0m and ride manual clutch motorcycles, these models are the best choice.
Below is the specification for both models. The cost of rental is 35$US/bike/day. After May 2017, only newer 2003 – 2005 Honda XR250's are available.
Contact us at [email protected] in case you need more information.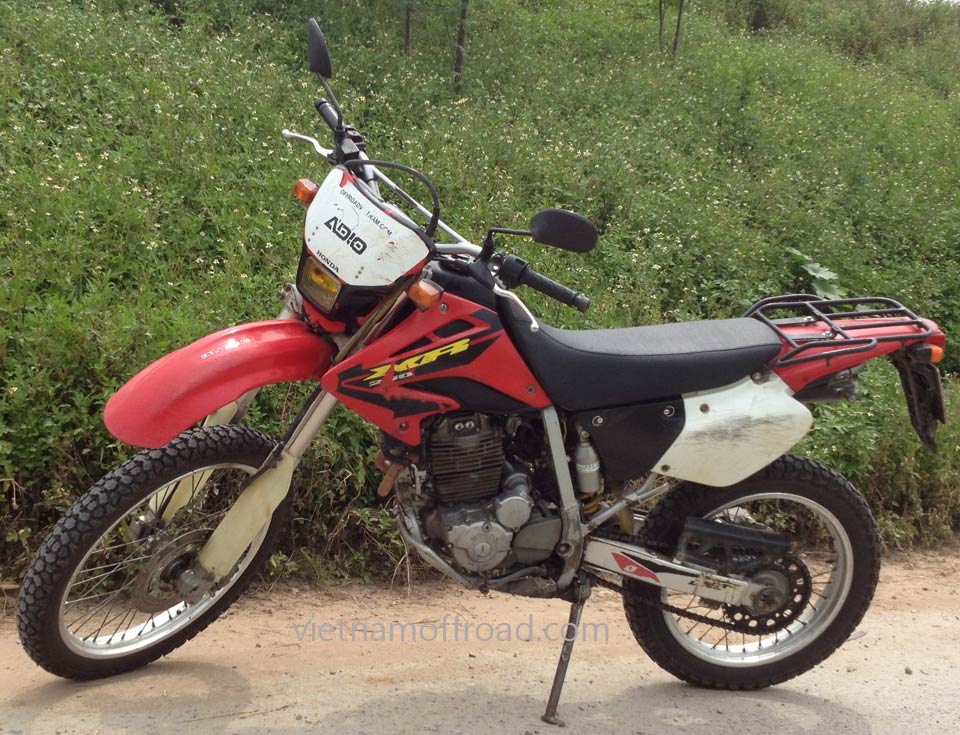 Number of seats: 2
Country of origin: Japan
Engine displacement: 249 cc, air/oil cooled, 4-stroke
Cylinder: 01
Engine power: (hp/rpm) 28 hp (20.9 kW) @ 8,000 rpm
Starter: Electronic and optional Kick start
Compression ratio: 9.3:1
Speed: 06
Ignition: CDI type battery ignition
Fuel Consuming: 22 km/liter speed 50 km/hour (standard gasoline)
Clutch: Manual, wet multiple plate coil springs
System (volt.): 12V
Brakes: Disc
Front tire: 3.00-21
Rear tire: 4.6-18
Front suspension: Telescopic fork
Rear suspension: Monoshock
Fuel tank capacity (l): 10 (XR250L) or 14 (XR250 Baja)
Ground clearance (mm): 310
Height (mm): 1,220
Length (mm): 2,140
Curb weight (kg): 119
Seat height (mm): 860
Wheel base (mm): 1,420